Cuisine
卓袱料理

Shippoku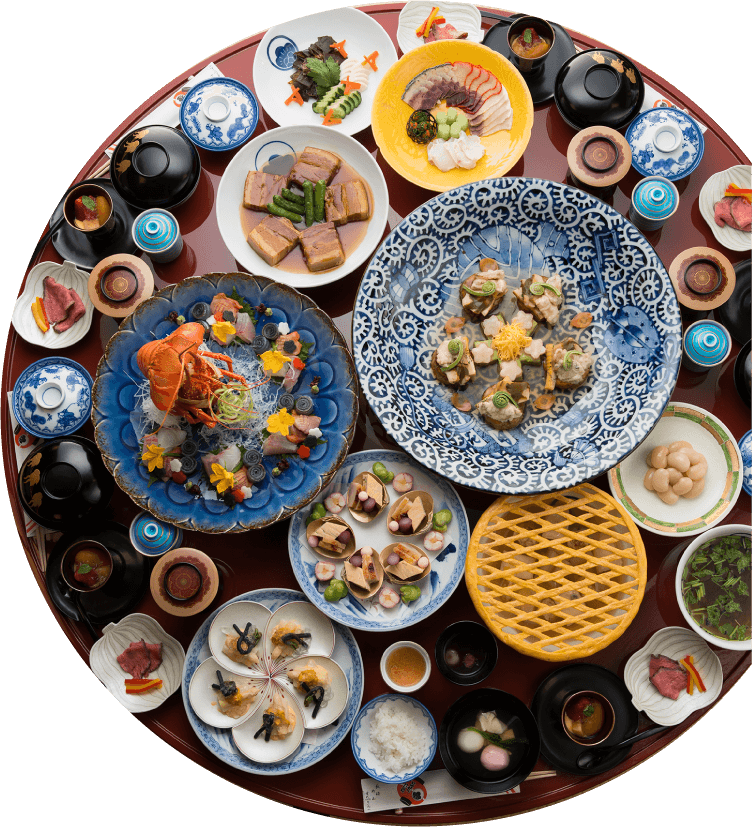 "Cuisine with hospitality" formed by
the mixture of worldwide dishes.
Nagasaki is famous for Shippoku-ryori (Shippoku Cuisine). Its root is said as the meal prepared by a Chinese living in Nagasaki in the early Edo period. In Chinese characters, Shippoku is written as '卓袱 ,' where '卓' means a table while '袱' means a tablecloth. Chinese people at that time enjoyed the meal sitting around one big round table, without caring about the social status. Shippoku-ryori follows this practice. It has various international menus such as Pasty, puff pastry from western cuisine, Kakuni (stewed pork) from China, and Sashimi using fresh fish from Nagasaki. Besides, we also offer kaiseki cuisine using seasonal produce.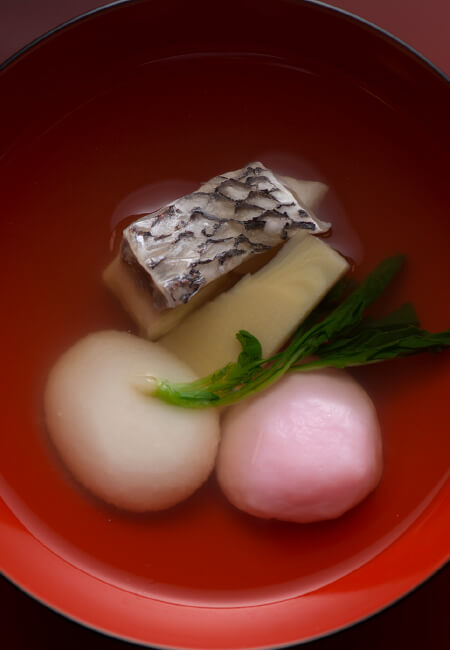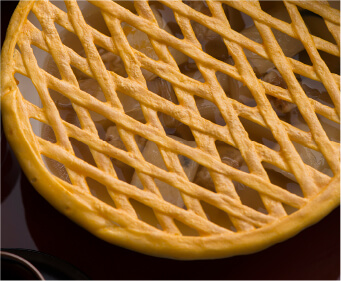 Manner of
Shippoku
Manner lessons by Okattsuama, a proprietress.
It starts with the word,
"Ohire wo douzo
(Please have the soup)."
Shippoku-ryori starts from what Okami (a proprietress) says; "Ohire wo douzo (Please enjoy the soup)." "Ohire" is a Japanese-style soup that signifies hospitality for a respective customer even by using one whole Sea bream. Thus, the soup included Sea bream's pectoral fins in the past. The word also implies kindness for those who drink alcohol, so toasting or a host's speech does not start until having Ohire. As long as you finish having Ohire, you can enjoy the meal as you like, because there are no specific rules like how you should eat.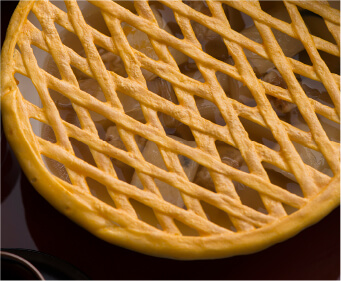 Directly take meals using
chopsticks
You will surround the red round table and directly take meals on the platter. Shippoku-ryori at Kagetsu completely follows the tradition without any simplifications. Moreover, you may enjoy the seasonal produce, enabling you to feel Nagasaki closer.
Extra plates are up to two
You can have up to two extra plates per individual in an official rule. Since just an ordinary family served guests in the past, the rule aims to reduce the burden of serving.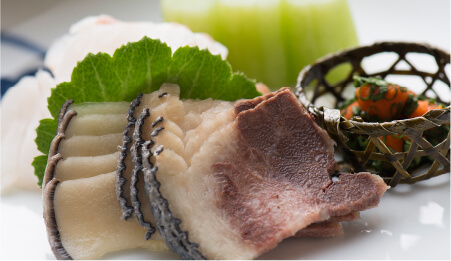 Prices
Shippoku-ryori (Shippoku Cuisine)
¥23,760 ~ per person
¥26,400 ~ per person
¥33,000 ~ per person (recommended by a head chef)
Shippoku-ryori as lunch
10,560 yen (tax included) (per person)
14,520 yen (tax included) (per person)
17,160 yen (tax included) (per person)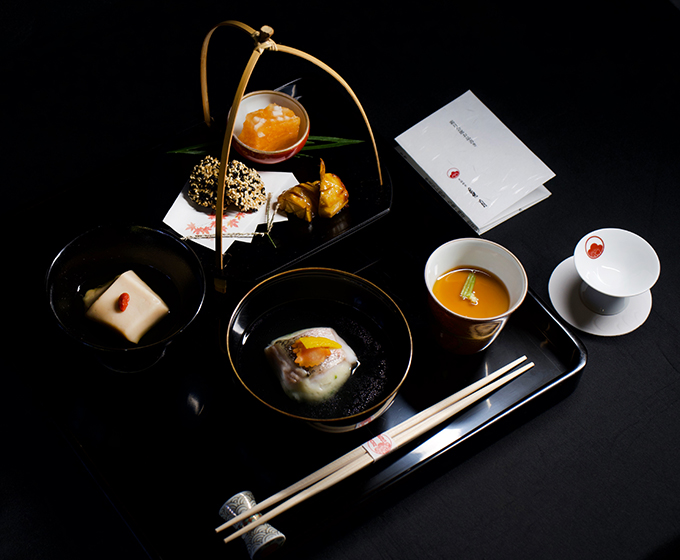 会席料理

Kaiseki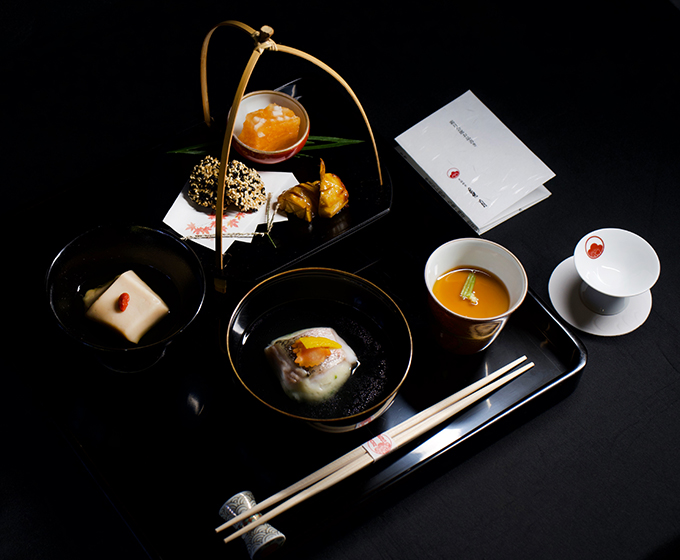 Carefully chosen seasonal
ingredients will let
you feel Nagasaki.
Please enjoy Kagetsu's Kaiseki cuisine cocked from seasonal
and local ingredients.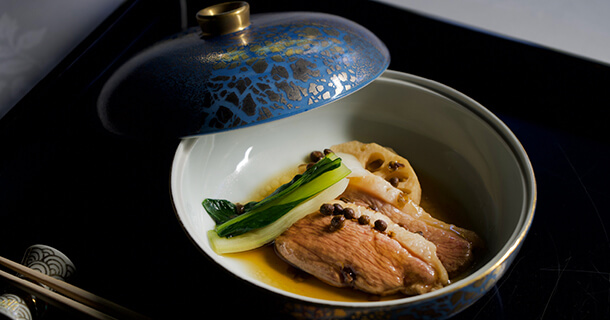 Prices
Kaiseki Dinner
¥23,760 ~ per person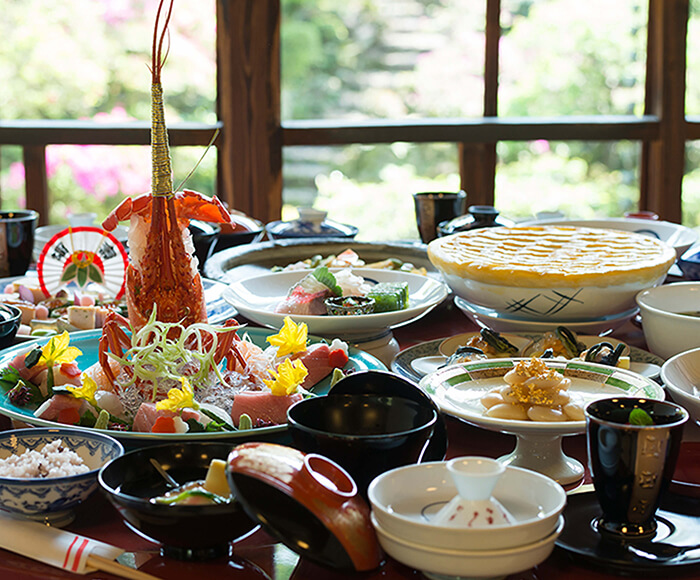 仕出し・お持ち帰り

Take out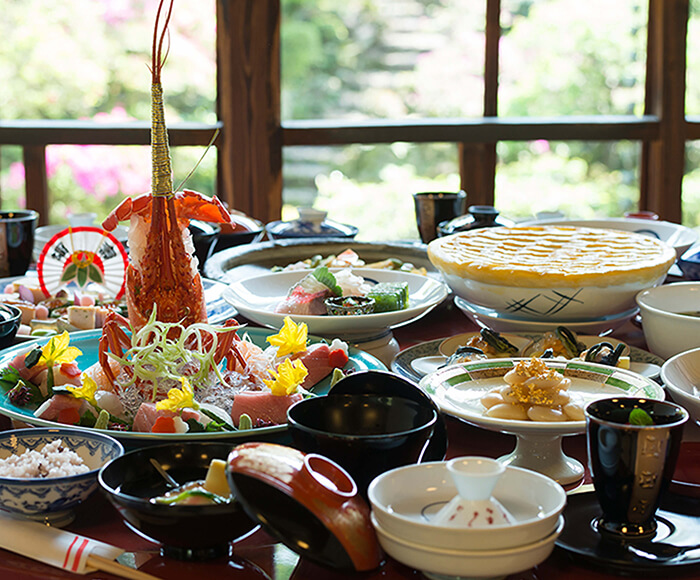 We will deliver the traditional
Shippoku-ryori to you.
You may have the Kagetsu's seasonal Shippoku-ryori even at your home. A chef will visit you and serve Ohire, and Kagetsu will prepare all the materials, including extra plates. Menus for an individual and the ones for a family are both available. It is also possible to order a bento as well as Japanese-style hors d'oeuvre which is not a starter but a variety of menus served in one round dish.
Roast A5-ranked Nagasaki Wagyu beef rice bowl

¥3,240 (tax included)

A head chef recommends this roast beef rice bowl. Enjoy the texture of beef and vegetables enhanced by the flavorful Japanese-style sauce.

Seasonal Shippoku Bento Going Great with Alcohol

¥3,240 (tax included)

Kagetsu's famous and time-honored Shippoku-ryori is arranged as a bento. Please try the head chef's masterpiece with seasonal ingredients.

Kagetsu-gozen

¥4,104 (tax included)

Colorful dishes are carefully served in one bento.

Kagetsu-style hors d'oeuvre(for more than one person)

¥7,560 (tax included)

We serve colorful and international dishes on one round plate. This is suitable for ceremonies and parties.
Please call us to make reservations
about take-out or delivery.
Reception Hours 11:00~20:00 (Closed on every Tuesday)